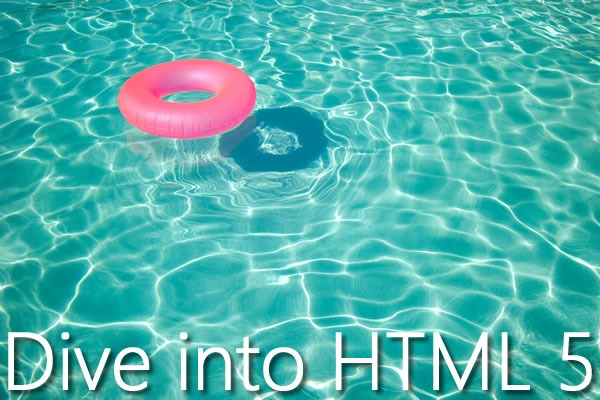 If you've decided to learn HTML 5 and are looking for a good introduction, I can't think of a better starting point than Mark Pilgrim's Dive Into HTML 5. If Mark's name rings a bell, it's probably because you've heard of his books Dive Into Python and Dive Into Accessibility. As you can see, he's taken a theme and he's running with it.
Dive Into HTML 5 covers a number of topics, including:
Mark has a knack for explaining things, so I'm always happy to point people to his books. I consider Dive Into HTML 5 to be pretty comprehensive; you could create a course based solely on the material in this book, and thanks to the licensing, you can!
Dive Into HTML 5 is available for free online and is a work in progress. It seems to be largely complete with only a couple of missing chapters, and when it's done, it'll be available in a couple of forms:
For free, online
For money, in the form of an O'Reilly book
As with Dive Into Python and Dive Into Accessibility, Dive Into HTML 5 is published under a Creative Commons "By" 3.0 license. You can freely share the contents of the book and even take it and adapt it any way you please: into your presentations, into a lecture or blog article series, or even your own book on HTML 5 – as long as you give Mark credit for creating the original work.
This article also appears in Canadian Developer Connection.