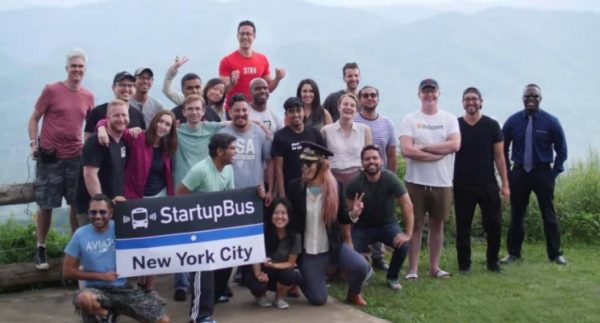 The title of this post should be a big hint: Everything you need to know in order to win StartupBus North America 2022 is contained within a podcast. This is the third in a series of posts covering the "Startup Bus" series of episodes from Gimlet Media's Startup podcast, which covered the New York bus' journey during StartupBus 2017.
Did you miss the first four articles in this series? Here they are:
I'm posting this series as a prelude to StartupBus 2022, which takes place at the end of July. I was a contestant — a buspreneur — on the Florida bus in 2019, which made it all the way to the finals and finished as a runner-up. Now I'm a coach — a conductor — on the 2022 edition.
Here's episode 5 of the podcast series…
…and here are the lessons I took away from this episode:
A lot of what makes success is just showing up. At the start of the episode, podcast host Eric goes for an early morning walk with Colleen Lavin of team Daisy and discovers that she was nce the Illinois Knights of Columbus free throw champion for girls age 14. Here's how she tells the story:
COLLEEN: I was like getting my school volunteer hours, helping my dad at the free throw contest, and I was in the right age range, so he made me compete. I made two baskets, because I was not a basketball player. But no other girls in my age range showed up, and he made me go to the next competition and no other girls my age range showed up. Finally, I was almost sent to D.C to compete in the nationals after making a total of like four baskets.

ERIC: Because nobody had showed up?

COLLEEN: In my age competition!
Be prepared for possible twists in the finals. Elias Bizannes, the creator of StartupBus, loves drama. In the 2017 competition, even though there were five finalists, Elias decided to create a sixth team made up of people from teams who didn't make it into the finals. The team would create a blockchain-powered voting app. Why did he do it? In his own words…
To mess with people to be honest. Because that's what we do with StartupBus, we push them and we break them. And what happens is this remarkable thing comes out when people go beyond the limits they think they can, they actually step up. And so by introducing a new team, it was gonna add another level of competitive threat to the finals.
The finals will feature far more polished pitches and apps: "From the moment the pitches begin, it's apparent. This is a very different level of competition than yesterday. The presentations are all well-crafted. Each of the products makes sense. You could imagine people making these pitches to actual investors."